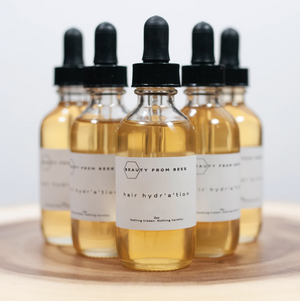 Beauty From Bees
Hair + Scalp Hydr'A'tion - Beauty From Bees
Sale price Price $12.00 Regular price Unit price / per
See size chart
Description:

Hair Hydr'A'tion - 2oz/60ml - 0.5oz/15ml
Now with a mild sweet vanilla scent!
Soothe and add moisture to your scalp with this easy to apply oil. Hydrate, thicken, repair and soften your hair with this beautiful, natural oil blend. Amla Oil comes from the Indian Gooseberry fruit and possesses an impressive reputation for its ability to help nourish the scalp, condition dry and brittle hair and promote strong, healthy and shiny hair! Combined with the popular Argan Oil and antioxidant rich Apricot Kernel Oil; this blend is guaranteed to help bring your hair to life. Don't let dry, itchy scalp get your down! 
Ingredients:
Emblica officinalis (Amla), Argania spinosa (Argan) Kernel Oil, Prunus armeniaca (Apricot) Kernel Oil, Vanilla Planifolia (Vanilla) Oil, Lavendula Angustifolia (Lavender) Essential Oil, Rosmarinus officinalis leaf extract (Rosemary) Extract.

ALWAYS GLUTEN & NUT FREE
How to use:
Apply a few drops to your ends daily to give moisture and shine. For dry scalp you can apply where necessary directly to the scalp with the dropper, rub it around, comb it and let sit for as long as needed; anywhere from 30minutes to 24hours and then wash out. 
Alternatively, apply thoroughly to the scalp and hair for a hair mask you can leave on for up to 48hrs for maximum hydration. Wash out and feel how incredibly soft and healthy your hair is. A deep hair treatment is recommended weekly to promote health and growth. If you have dry scalp you can apply the oil and comb the scalp to help remove dry flakes. Wash out and repeat as often as needed. 
Not all of our brands have official size charts - PLEASE reach out with any sizing questions you might have! We are always here to help - hello@dluxestyle.ca or hit the chat button!
Bryn Walker Size Chart
SIZING: Sizing is always open with Bryn! It's up to the wearer's fit preference.
XS: Fits size XS, S, M
S: Fits size S, M, L
M: Fits size M, L, XL
L: Fits size L, XL, 1X
XL: Fits size XL, 1X, 2X+
We're Bryn Walker experts! Questions? I'm always here for you! dayna@dluxestyle.ca
Thunderpants USA
The undie styles are designed to sit in the natural curves of the body and are cut with plenty of fabric to cover your bum. Our undies are naturally larger than other undies because of this.

See the size guide below to help you choose the right size. If you happen to fall between the measurements, don't panic, simply think about how you like to wear your clothes. If you prefer a looser feel, go larger and if you would rather feel snug in your clothes opt for the smaller size.
The sizes are standard US sizes.
More sizing questions?!

Hit the Chat button - we're always here for you!!
Or you can always email us directly at hello@dluxestyle.ca